Next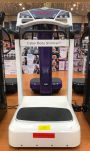 Dr. Fuji Cyber Body Simmer Black
Reduction of cellulite 

Reduction of body fat levels 

Reduction of training time 

Requires very little effort 

Improves metabolism 

Increased muscle strength 

Lowers some stress hormones

Improves circulation 

Fewer varicose veins
FJ-090B Cyber Body Slimmer
Slimming
Consume the unwanted fat on hip, on waist and on add on abdomen by vibration and massage. Therefore, polish the skin and reshape the body.
Regulate the neural system
Improve conductive ability of nerve cells, regulate the neural system and mitigate neurasthenic.
Simulate Intestine
Refresh you by simulating intestine and cure constipation by massage the points according to ancient Chinese medical theory.
Better constitution and enhance immunity
Keep fit without burden and better constitution and enhance immunity by enhancing local circulation of blood.
Spur Circulation of blood and improve metabolism
With age growing detrimental stuffs like cholesterol, calcium will deposit in the vein and stiffen the vein causing high blood pressure and Anoxemia even coronary heart disease. Frequent vibration by SBS (Super Body Shaper) spurs circulation of blood therefore dissolve the detrimental stuffs with metabolism and finally evacuate them.